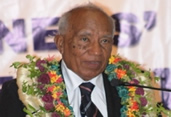 As a Melanesian, I am proud to say that we are one big family sharing the same values and traditions, representing unique cultures, and at the same time maintaining our identity inn the region".

These were the words of welcome accorded to the members of the 4th Melanesian Spearhead Group Police Commissioners' Conference at the Tanoa Hotel in Nadi this morning by Chief Guest the Minister for Defence Mr Joketani Cokanasiga.

In attendance were the Commissioner of Police from Papua New Guinea, Vanuatu and the Royal Solomon Islands Deputy Commissioner.

The meeting is being chaired by FLNKS's Mr Philippe Ahapuhnya and co-chaired by Fiji's Acting Commissioner of Police Mr Ravi Narayan.

In his welcome address the Minister of Defence also paid tribute to the former Commissioner of the Fiji Police Force, Major General Ioane Naivalurua.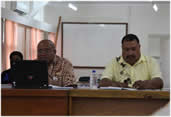 2nd MSG stakeholders meet:
Maintaining the momentum of the successful 2nd Melanesian Spearhead Group Special Police Commissioner's Conference earlier this year, stakeholders gathered last week to discuss the outcomes of that meeting.
Chaired by the Deputy Secretary for Defence Mr Tevita Boseiwaqa, the meeting was attended by officials from the Immigration Department, Solicitor General's Office, Ministry of Finance, Ministry of Defence and the Fiji Police Force.
LIST OF EVENTS
Events Scheduled
Tue Dec 2 09:00 AM
- Opening of 2015 MSG Police Commissioners Conference at Holiday Inn Suva, Fiji.
Events Scheduled
Wed Dec 3 04:00 PM
- Closing of 2015 MSG Police Commissioners Conference by Minister of Defence.
MORE
MEMBERS OF MSG
Fiji
Papua New Guinea
Vanuatu
Solomon Island